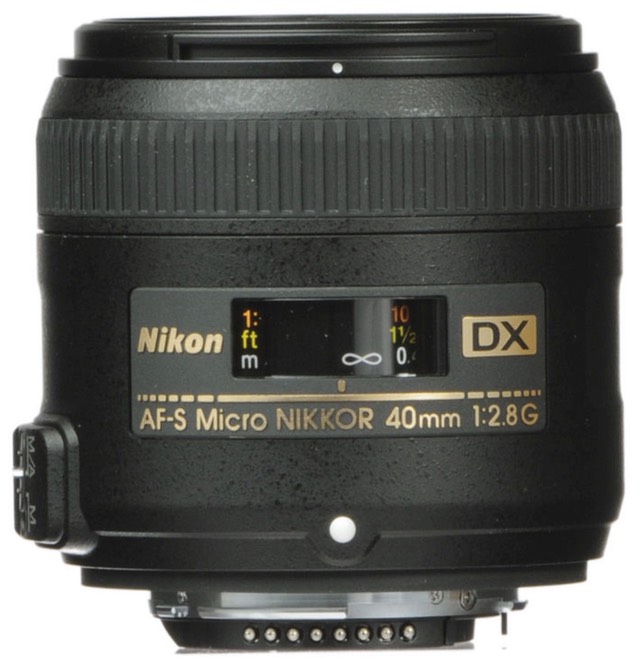 DX coverage
Autofocus (internal lens motor), internal focus, MA M switch
9 elements in 7 groups
7-blade aperture diaphragm
smallest aperture is f/22 (at normal focus distances)
52mm filter ring
6.4" (0.163m) minimum focus; 1:1 maximum reproduction ratio
1.3" (35mm) working distance at 1:1
2.7 x 2.5" (68.5 x 64.5mm) long, diameter
9.9 ounces (280g) weight
HB-61 bayonet lens hood, CL-0915 soft case, caps
US$280
Model Number 2200
Thom's Mini Review: Technically a DX version of the 60mm Micro-Nikkor and its 55mm older siblings, this is a lens that I just don't get. Working distance at 1:1 is abysmal (about two-and-a-half inches), making it nearly impossible to light a subject. Of course, Nikon's target market for this lens is probably the naive: someone just looking for close focus at a cheap price. The shame is that it is a pretty good lens optically. But it's not better than the 35mm DX (other than its ability to focus closer), so if you're looking for a "normal" lens the 35mm DX is a better choice, and so is a longer macro lens or a different approach (CU lenses on a regular lens, for instance).
Thom's Full Review of the 40mm
Support this site by purchasing from this advertiser: