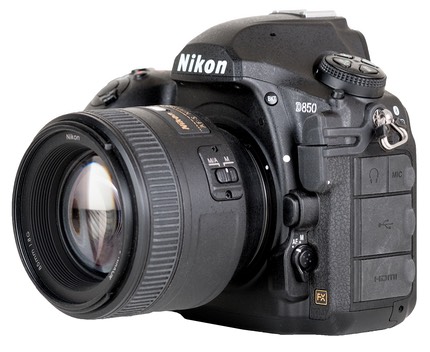 What is It?
The D850 is the second significant update in the D8xx series. The original cameras—the D800 and D800E—appeared in 2012. The D810 in 2014, the D810A variation in 2016. Now we have the D850 in late 2017, though some are still waiting for their orders to arrive even as I write this in early 2018.
All that updating and tinkering history for the D8xx series is interesting. Nikon hasn't made this many big changes in a product line so quickly anywhere else in their lineup. Sure, they have iterated fast at times—particularly in the consumer DX DSLR line—but not with such distinctly big differences model to model. Anyone that's shot with a D800, D810, and D850 knows that Nikon has made remarkable improvements at each major generation change. Traditionally, Nikon hasn't made such quick major changes to a pro camera every two years before. 
That shows us two things. First, the D8xx line is a very important in Nikon's mind. You don't commit that much engineering resource if it weren't. Second, even though Nikon set the bar for high-pixel count full frame, that bar has moved fast.
How fast? Check out this table:
Nikon D8xx Series

| Feature | D800 | D810 | D850 |
| --- | --- | --- | --- |
| Introduced | Feb 2012 | Jun 2014 | Aug 2017 |
| Sensor | 36MP | 36MP | 45MP BSI |
| Max Image | 7360x4912 | 7360x4912 | 8256x5504 |
| ISO Range | 100-6400 | 64-12800 | 64-25600 |
| 14-bit Buffer | 17 | 28 | 51 |
| FPS (FX) | 4 fps | 5 fps | 7 fps (9 fps) |
| EFCS | No | Yes | Yes |
| Silent Mode | No | No | Yes |
| Meter | 91k pixel | 91k pixel | 181k pixel |
| Focus | 51 sensor | 51 sensor | 153 sensor |
| Cross-type | 15 sensors | 15 sensors | 99 sensors |
| Focus EV | -2 | -2 | -4 |
| Video Max | 1080P/30 | 1080P/60 | 2160P/30 |
| Rear LCD | 921k dot | 1.3m dot | 2.4m dot |
| Viewfinder | .7x | .7x | .75x |
| Wi-Fi | via WT-4 | via WT-4 | SnapBridge + via WT-7 |
| Battery life | 900 | 1200 | 1840 |
| Weight | 900g | 880g | 915g |
When you examine these features together, each version of the D8xx has introduced significant new performance and features right in the heart of the camera. The D800's sensor was state-of-the-art in 2012, and that's been pushed right along so that the D850's sensor is still state-of-the-art in 2017.
So let's start there. The sensor at the heart of the D850 is a Nikon design, almost certainly produced on the Toshiba fab now owned by Sony. My sources tell me that Sony offered to let Nikon use the 42mp sensor at the heart of the Sony A7R2 and now A7R3, but Nikon decided to go with their own design. 
That's proven to be both good news and bad. The good news is that this sensor is indeed state-of-the-art. In almost any form of testing, it maxes out what we've seen from any high pixel count full frame sensor to date. Most notably, though, it's somewhat better at higher ISO values than the predecessor Sony sensors Nikon used, it can throw data off to the EXPEED processor much faster, and it has the full frame 4K video that everyone wants in their cameras these days.
The bad news is that—again according to my sources in Japan—the yields for this sensor were initially less than expected, meaning that Nikon wasn't able to make a quick dent in all those orders that started piling up back in August 2017. This is an echo of the D800 launch, when it took six months before all the pre-orders were actually shipped. As I write this, we're at about that same six month since first ship time frame and once again earlier orders are just now getting caught up to here in the US.
The key technology in the D850 sensor is BSI (backside illumination) with copper piping. The BSI means that the full photosite is responding to light, while the BSI coupled with the copper wiring allows the sensor to offload massive amounts of data quickly without introducing more noise. 
One weird thing is that Nikon consistently refers to the sensor as 45.7mp. If you shoot stills at the maximum possible size, it only generates 45.4mp of data. So why the 0.3mp difference? Nikon seems to be counting the edge pixels that are used when the camera makes Medium and Small raw files. That's right, the camera produces Large raw files at 8256 x 5504, but it actually captures 8288 x 5520 pixels when shooting at Medium and Small raw sizes before it does the downsizing. It seems odd to me that Nikon is obsessing over a small pixel count change that isn't actually real in regular shooting. Are their pixel count egos that fragile?
What happens after the 45.7mp capture is equally strange. Basically Nikon records the data as a Medium size file as 7104 x 4728 pixels (as opposed to JPEG, where it's writing 6192 x 4128). Huh? That's an odd-downsizing (done by sampling), but it's hardly "medium." Well, Nikon's not done yet. The raw converter then does another downsizing of the data to get to 6192 x 4128, the same size as JPEG Medium.  
This double resampling for smaller sizes allows Nikon to use Bayer data all the way (resampled, of course)—so yes, this time the Medium and Small raw file sizes are actually raw data—but ultimately produce smaller files that look decent. I'll have more to say about this in the performance section. You can't double resample like that without penalty. On the other hand, we're not getting the cooked, bit-reduced smaller "raw" sizes of previous cameras, and that weren't really using "raw" data at all.
The D850, of course, gets the D5/D500 autofocus system, and unlike the D500, it gets the D9 option (but not the new group options the D5 firmware update added). I'll have much more to say about focus in the performance section, below.
One surprise was that the D850 does 7 fps. That's a significant boost from earlier models, and quite unexpected for a camera with even more pixels. More unexpected is that you can up that to 9 fps by using the D5 battery in the optional MB-D18 Battery Pack unit for the D850. Unfortunately, that's going to add another US$900 or so to the price of the camera at Nikon's retail markups (you can mitigate that by buying third party products, but as I noted in a D850 blog post, quality control can get in the way.
Nikon's done quite a bit of work in the trenches, too. 
The touchscreen implementation on the D850 drives deep into the menu system, which makes changing settings much faster than before. Pretty much everything is settable by touch now (the D7500 shares this).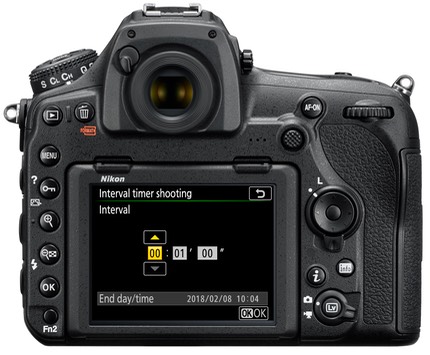 On the storage front, the D850 has the same XQD/SD card slot combo that the D500 had. Frankly, the D850 really needed dual XQD slots, and that's especially true if you want to shoot 9 fps. What I find is that even with state-of-the-art SD cards there's just a little bit of an extra delay on image review and other things that touch both cards, and it's due to the SD slot, even if you have a UHS-II card in there.
Oh dear, I keep writing about performance things in the features section. Funny thing, it's hard not to do that with the D850. So many of the features in this update are directed right at the heart of performance. That's one of the aspects that made the D810 better than the D800, and now that's occurring again with the D850 versus the D810. Bravo Nikon.
Meanwhile, Nikon did add some features (and take some out). The one that was added that got the most talk was the ability to create a set of images for focus stacking (unfortunately called focus shift shooting by Nikon; focus shift has a specific meaning that has nothing to do with what the camera actually does). 
While the focus stack creation feature is welcome, it's under-documented and unfortunately so complex in what's going on it probably will never be full documented. That's because Nikon gives you an arbitrary "step" value you can set. But the actual step between focus points varies with focal length, aperture, and focus distance. A focus step of "5" means different things in different situations. That's because Nikon is doing a form of DOF calculation in determining what a step value should be. I and others are still trying to come up with better advice about how to use this function, but the problem is that variables stack up really, really fast, making telling people what to set almost comically impossible.
Much more interesting to me was that Nikon added the ability to put pretty much all of the "stack-type" things into separate folders, making it easier to see them from regularly-shot images. Multiple exposure, Interval shooting, Time-lapse shooting, and Focus shift shooting all get that "in their own folder bit," and if you're a deep connoisseur of the recent Nikon menu changes, you'll know that you can change Custom Settings so as to get to different folders faster. If only that applied to regular shooting and creating folders, too ;~).
I like where the folder thing is headed, but like a few things in Nikon's menu system, it still needs some rationalization, merging, and organization to put everything in the same place.
Funny thing: the D850 was marketed from day one as being able to shoot 8K Time-lapse. Go to the Time-lapse menu item and the largest size you find is 4K. Hmm. Oh, Nikon meant you could use Interval shooting to generate the images for an 8K time-lapse. You'll still have to put it together with software, whereas the built-in function will build 1080P or 4K time-lapse videos for you.
Out back we've got the excellent 3.2" LCD in a swivel mount now. Don't count on that getting you more than 90° either direction, but given how often I set up my cameras down low for landscape shooting, it's a welcome addition. I really don't want to see a sophisticated camera without some form of tilt/swivel in the future (I'm looking at you D6). 
The viewfinder got some love, too. This is the biggest magnification (.75x) we've seen yet on a Nikon DSLR. Nikon also finally figured out where to put the option for shading crops instead of using frame lines, too (PHOTO SHOOTING->Image area->Viewfinder mask display). 
One thing I don't like is the changes to the viewfinder focus/crop highlighting. The D5, for example, always shows red focus markings. The lower Nikons show red only on focus acquisition. The D850 is somewhere in between, with the Auto mode being more the latter and the On mode being the former. But the shaded crop area also flashes red when you've got one of the options on, and that's annoying. Nope, that highlighting option isn't with the crop choice: it's buried in Custom Setting #A12. 
Moreover, for some reason Nikon made the way the different Autofocus Area modes show up in the focus points on the viewing screen slightly different, too. I complimented the D5 for being the first Nikon DSLR where what you saw in the viewfinder almost perfectly told what focus mode you were in (assuming you made some basic settings in the menus). The D850 steps back from that slightly. 
We did get the addition of SnapBridge, but frankly, that watered down connectivity approach doesn't belong in a high-end body. Yes, SnapBridge is now more dependable and useful than it was at launch back with the D3400, but it's still slow. Meanwhile, if you want faster, you have to put up with the abysmally designed WT-7. Connectivity is just not a thing the D850 designers got right. In any form. 
I'm sure the videots, excuse me, videographers, want to know about the video side of the camera. Surprisingly good. 4K without crop (or with a DX crop if you want), 120 fps equivalent at 1080P, good-but-not-great bit rates, plus many new options we haven't seen for video before. Yes, focus peaking and zebra stripes are both there, too. In many ways, the D850 is Nikon's best specified video camera to date. The support for the Atomos external video recorders is back, too, and even selectable in the menu system.
Overall, Nikon did more than a credible job in updating the D810: they've essentially re-invigorated a camera that I still would regard as one of the best all-around DSLRs you can get. 
The one removal that some lament: there's no pop-up flash any more. I'm agnostic on this one. I actually don't think the presence/removal of the internal flash is the issue with Nikon flash. I don't mind carrying around an SB-500 if I want that level of flash capability. 
What's more disturbing is that the three new generation cameras are all decidedly less friendly with the flash units we tend to have in our gear closets (e.g. SB-900/910). The flash options button and the Flash control menu item aren't available with any but the most recent Nikon Speedlights. 
Source of evaluation unit: purchased (three others borrowed and used to check various bits)
The D850 is made in the Nikon Thailand plant and retails for US$3300 for the body only.
Thom's blog while he was working on his book and review
Thom's nearly 1100-page book on the D850
How's it Handle?
Nikon got the high-end small body design right some time ago (D300). Since then they've been careful to tweak it in ways that are rational and which won't annoy you.
Long-time readers know about my hating having my cheese moved (buttons, controls, menu items moved about willy-nilly on the camera). Yes, there's some cheese moving on the D850, but I'll support almost all of it because it makes the D850 into a mini D5 without messing anything up. 
The ISO button behind the shutter release is the big thing that started other cheese moving. The addition of the D4/D5 thumbstick to move focus (and perform other functions) is the other.
Overall, I hope that Nikon settles down now. Things are where they should be, the grip feels better, and the little touches like the back-lit buttons just give you a satisfied feel as you work into the evening. Again, bravo Nikon. Now don't mess that up again.
How's it Perform?
Focus: It's the D5 autofocus system, so everyone expects it to perform just like the D5.
Not so fast, Sherlock.
There are a couple of small differences between the D5 and D850 when it comes to things that impact focus performance, and those go by the name of frame rate and viewfinder blackout time. 
Simply put, the functions that require lots of data do a bit worse on the D850 than the D5, just as they do a bit worse on the D500 than the D5. What are those functions? Auto AF and 3D Tracking. The more data those systems get, the better they are. The D5 generates the most and best set of data, thus it's the best at focusing with those settings.
That's not to say that the D850 is a slouch. It isn't. In 3D Tracking the D850 does a respectable job of eye detect focus (yes, I wrote eye detect focus); if you are good enough to get the initial starting point really on the eye, that is. Auto is a little worse at this, as it has to figure out where the eye initially is on its own, but it, too, is perfectly respectable in most situations.
Yes, you can fool the all-auto modes with really erratic motion, not getting a good initial track point, having too many moving subjects present, or shooting in very low light. But if you think a DSLR can't do eye detect AF you're wrong. The D850 does it. Just not quite as good as the D5 does.
The rest of the focus system performs pretty much the same across the D5, D500, and D850: single area, dynamic area, group. Indeed, if there's a difference, I can't measure it.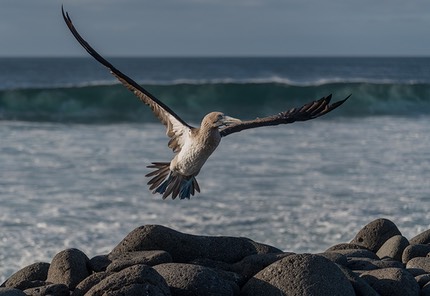 Battery: Don't worry about it. Unless you touched SnapBridge. 
Under normal shooting circumstances, the D850 just seems to shoot forever. The CIPA rating is 1840 shots a charge. I exceeded that every day in the Galapagos (much to my post processing regret). Indeed, I'd say that the more continuous shooting you're doing, the more likely you're going to get a battery life number you don't have to worry about. 
The touchscreen uses some power, so be careful about lots of menu dipping or image review or Live View. You might not be as happy as me with the battery if you do a lot of that. Still, even when I'm more rear screen oriented the battery is lasting me well over a thousand shots.
But then there's SnapBridge. As we've all found on every camera that's had it, SnapBridge just has this way of chewing your battery. So much for Bluetooth LT being low power. It's just a constant power drain if you're not careful. 
One thing I'm still trying to track down is that Bluetooth has re-enabled itself several times on my D850 without me asking for that. I don't know if that's a bug or something that I'm doing I'm not aware of triggering it come back on. One thing you should get in the habit of checking: do you see a flashing bluetooth icon (press the INFO button, look in the upper left, though a small version also appears on the top LCD)? Then Bluetooth is probably enabled. Go to the SETUP menu and turn Bluetooth Off.
Notice I didn't say turn Airplane Mode On. That's because I've found that the camera can still be "communicating" at times despite what that menu item implies. 
Finally, like the D500, the D850 seems to use more battery charge bringing the internal clock battery up to speed when you first start using the camera. Don't judge your power consumption for the first couple of charges and first couple of days using the camera. 
Buffer: Let's talk about the D5 and D500 with XQD only cards for a minute: those cameras will shoot right up to the maximum frame count (200) with the fastest XQD card pretty much with any camera setting you're using. 
The D850 is not a D5 or D500, except with JPEG only shooting.
Let's talk about the most likely scenario raw shooters would be using: 14-bit Lossless Compressed NEF with the fastest available cards. With just an XQD card in the camera I'm hitting just above 50 shots before the buffer burps. Continuous shooting above that will be "as fast as the card writes." 
Let's try a state-of-the-art UHS-II SD card with no XQD card in the camera: low 20's. 
Okay. 
The implication here is that if you shoot the second slot as backup you're going to get low 20's for the buffer. If you're shooting above ISO 400, I'd strongly suggest shooting 12-bit Lossless Compressed: you'll get more buffer back.
But we're not done. 
Those numbers are just the camera body at 7 fps. With the MB-D18 grip and the EN-EL18 battery required to get 9 fps, everything I just wrote should be approximately halved. In actuality, I measured differences in various different camera settings/cards ranging from 38-65% lower than the buffer at 7 fps without the grip. But if you're getting X buffer at 7 fps without the grip, expect to get something about X/2 at 9 fps. 
Say what? 
The problem here seems to be that the camera is emptying the buffer at a fixed speed, but once we go above 7 fps we're filling the physical buffer so fast that the writes are draining it nearly as efficiently. In my book I document one specific case: 51 frame buffer at 7 fps, 38 frame buffer at 9 fps. 
Of course, let's put this in context. You're still shooting for a bit over four seconds and creating 45mp raw files while you do! I think if you need more than that, you're probably asking for next decade's model (and a lot of post processing).
Seriously, though, be careful of that SD slot. You can definitely slow the camera down depending upon what card you stick there and your camera settings. 
Exposure: Like the D5 and D500 you need to figure out if you're a JPEG or raw shooter. Why? Because you can't optimize exposure for both. If you try to keep JPEG from saturating, you'll underexpose your raws. If you expose your raws to the max (ETTR), you'll overexpose your JPEGs. 
I'd also caution you a bit about the new Auto Picture Control. If you're shooting JPEG and don't mind the camera moving clarity, brightness, contrast, and saturation as it sees fit, no worries. But if you're shooting NEF only and going by what the histogram says, you're going to be getting inconsistent results. My usual rule applies here: if you have a UniWB file, use that with a straight-line Picture Control based off Neutral. Or just use Neutral. 
Dynamic range: There's not a lot to differentiate between the D8xx models, surprisingly. At the base ISO of 64, the D850 is ever so slightly better than the previous models at base ISO. From ISO 100 to 320, I think the original D800 may actually be ever so slightly ahead. Once the dual gain on the D850 kicks in at ISO 400, the D850 has a continuous small overall improvement from the D800/D810 models. 
Which is all to say: pretty awesome. 
At base ISO the D850 is just in a realm we wouldn't have dreamed of 10 years ago. While you'll see DxO and others give you higher numbers, in terms of absolutely useful photographic dynamic range, we're over 11 stops here. If people want to quibble over whether the deep shadow differentiation gets you something usable out in the 12 stop+ range, please go outside and do argue with each other while letting the rest of us just bask in a camera that has strong pixel integrity with just about every situation you throw it at base ISO.
The tougher thing to get a handle on is where to cut off usability of high ISO on this camera. If you're printing at 36" the answer is going to be a bit different than if you're doing something more "normal", such as shooting a full page for a magazine. 
Let's look close. This is ISO 1600 at (if you're full width on a desktop) almost 100% view.
I've added just a touch of noise reduction in Photoshop CC to this image, but you'll notice that the eye, feather, beak and display sack detail are still there. A really close examination shows a bit of noise in the black areas because I've brought those up with the shadow slider even further. Still, this is remarkably clean for all the pixels we're generating.
Indeed, up through ISO 6400 the D850 is pretty well behaved on the noise front, and particularly so with the changes in JPEG processing with EXPEED5. Beyond that, we're clearly in straight digital multiplication land for ISO changes and the results aren't so kind.
I'm not afraid to shoot with the D850 at ISO 3200 and 6400. And ISO 800 is actually a bit better than ISO 320 (due to the dual gain step at ISO 400). 
Landscape photographers: stick to ISO 64 and 100 (or LO if you need it). Action shooters, stick to ISO 800 to 3200 if you can, push to 6400 if you need it. My two preferred ISO values on the D850 are 64 and 800. I really wish I could just single button push between them. 
One question I get is whether the D850 is "better" than the D500 at DX shooting. I know I'm going to get pushback on this, but I'm going to say unequivocally "no." While the D850 can sub in as a near-D500 and may be the better all-around camera choice for many, if you bought the D500 for frame rate and DX performance, stick with it. 
The big issue is 10 fps turns out to be different than 7 fps, and 9 fps on the D850 is expensive due to the grip/battery needed. Moreover, the D500's buffer just proves to be near infinite when maxed in fps, while the D850's is finite, particularly at 9 fps. While shooting football late last season with the D850, I'd find sequences where the buffer was still clearing when I needed to shoot the next play. 
Less important is the image quality difference. The D500 has about a third of a stop advantage at higher ISO values over the D850 shooting in DX crop. Potentially not meaningful to many, but it is a measurable difference.
The one thing that shooting in DX crop with the D850 has over the D500 is the "sports finder" like view. If you're trying to track complex and erratic motion of multiple objects, being able to see "outside the frame" can be useful in keeping the camera pointed where you want it.
Medium/Small NEF: E for effort, C for usefulness. The smaller NEF sizes now stay fully in the "raw" realm, producing real Bayer-pattern data. So that's a big plus. Unfortunately, the side effects tend to demote that big plus into something more a meh. 
First, Nikon is using double resampling to get the final size: one resampling in the camera, the final resampling in the raw converter. That means that "medium" and "small" is much bigger than you'd expect in file size, because extra data is being saved. You also get trimmed back to 12-bit only. And the buffer shrinks considerably. 
If that weren't enough, double resampling like that has two impacts on image quality: (1) an antialiasing like effect; and (2) really fine detail near the sampling frequencies can get irregular in its reproduction. Neither of those two are killers. Generally, I found that the smaller raw sizes produced acceptably fine images. 
The only problem is that their file size is too big, which I thought was the problem they were trying to solve. Medium is 72% the size of Large at 14-bits, for example. But just shooting NEF Large and dropping to 12-bit Compressed NEF gains you a smaller file size (65% the size). So I'm not sure that there's a real gain to be had here, particularly given the big hit to the buffer.
Final Words
There's not a lot to say: this is Nikon's best, most well-rounded DSLR ever. Indeed, the best, most well-rounded DSLR from anyone. 
I wrote that the D800 was the best overall ILC you could buy in 2012, I wrote that the D810 was the best overall ILC you could buy in 2014, and today I'm writing that the D850 is the best overall ILC you can buy in 2017.  It's difficult to imagine a job or task that the D850 can't handle with aplomb.
Upgrading from the D800/D800E — Even the D810 was a substantive and useful upgrade, but the D850 will take that so far you'll start to wonder about how good your D800 was (it was good, don't over obsess on this). So much of the shooting experience has improved since 2012 it's difficult to point to just one thing. Everything just seems to be have been worked on and improved.
Upgrading from the D810 — I generally don't recommend one-generation upgrades. Sit out a generation and save some money. But still, the D850 moves the bar more from the D810 than the D810 did from the D800, and that's saying a lot. This (and the line that the D500 is in, other than the D300s) may be the only product Nikon has done where it really feels like you're getting value for money in updating each generation.
Adding to a D3s, D4s, D5 — Yep, you're still getting something you don't have with the big pro bodies (mostly pixels). It's really a shame we don't have a D5x version of the D850, though. I dislike the different body style (and accessories changes) of shooting with a D5 and D850. Other than that, I'm covered for pretty much every task that comes my way.
Upgrading from a D500 — Here's where it gets a little sticky. If you're opting this direction because you need the DX reach, the D500 images technically edge out the D850 shot at DX by a smidgen on most tests I can run. An incredibly small difference, but a difference that sides with the D500, which also can shoot at 10 fps while the D850 has issues above 7 fps. Yes, if you want lots of pixels for landscapes and studio work but still want DX reach when you head to wildlife or sports shooting, the D850 is a good choice. But maybe keep your D500 and pick up a cheaper, used D810 and have nearly the best of both worlds.
Against the Sony A7R Mark III — Sony is right behind Nikon in the best overall ILC you can buy in early 2018. But behind. You really have to shoot with each for some extended sessions before you start to realize how much the Nikon engineers have smoothed the ergonomic and shooting issues so much more than Sony has. The way I put it is this: I can live with the Sony if I have to, but I prefer the Nikon. 
Against the Canon 5D Mark IV — I'm not tempted to make the Canon offering the "third best ILC you can buy." I'd consider other cameras first, I think. Some of that has to do with sensor performance: Canon has not yet really matched what Sony/Nikon are doing with dynamic range, for instance, and it shows the minute you start moving key sliders in Lightroom/Photoshop on raw files shot in the low ISO values (but not in the high ISO values). I'm also not convinced that Canon did a lot on the engineering side to make the Mark 4 a clearly better shooting experience than the Mark 3. Certainly not in the way Nikon has iterated the D8xx series to date. That's not to say that the 5DM4 is a bad camera—nope, it's a really good camera—but I just don't find Canon's latest effort up to the feature/performance war that Sony/Nikon are now engaged in, let alone the ergonomic improvement levels that Nikon is mastering.
Against the 50mp small MF cameras (e.g. Fujifilm GFX50s) — I haven't shot enough with the small MF cameras to make definitive statements, but I have to say that the right lens on a D850 puts it really close to what I'm seeing out of the GFX50s on an image quality basis, particularly at ISO 64. I can't see myself suggesting the small MF cameras over a D850 for most people simply because of the economics.
Again, Nikon produced a clear winner. The D850 is a delight to shoot with, and a kit with a pair of those bodies and a carefully selected six or eight lenses and I could be very happy as a pro shooter for the foreseeable future. 
Indeed, I envy my teaching partner, Anthony Medici, because that's about the way he has gone (D850, D810A). He doesn't have to worry about the speciality stuff I sometimes do (e.g. sports) or checking against competitors (e.g. reviews of everything) or evaluating all levels (e.g. how's the D7500? How's the 70-300mm AF-P lens?). He just shoots (mostly) with a pair of matching bodies and a handful of known strong lenses. 
Could the D850 be improved? Absolutely. Nikon needs to fully document (and iterate a few things on) the focus stack capability. SnapBridge is still a mess and that kind of mess has no place on a professional body (and the WT-7? Give me a break, that's a mess too). Video has some small issues if you're really picky, as I am; the audio amp needs improving, for instance. The new wireless flash system (and remotes) could use a solid overhaul and more options. The whole US$1000-extra-gives-you-9 fps thing has issues, too, particularly taking the buffer back into the gets-in-your-way-sometimes realm. 
But frankly, I can live around all those things. 7 fps is enough for most everything I do, even sports (as long as the focus stays with subjects, which it does). Flash is something I use less and less, and I long ago moved to more manual control anyway. I'm not expecting to use my D850 for video, though it's nice to have the respectable option the camera provides. And the whole Wi-Fi thing, well, I've mostly punted on that overall. It's noticeably faster to just pull the SD with JPEGs on it and put it into an SD reader attached to my phone and transfer away when I really need that.
So, an enthusiastic thumbs pointed north from me on the D850. The D850 represents some of Nikon's best work, and I'm perfectly happy with mine. 
Highly Recommended (2017, 2018, 2019, 2020, 2021)
Support this site by purchasing from the following advertiser: