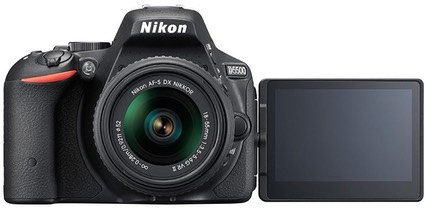 Introduced: 1/6/2015
Expected Replacement: Replaced by D5600 in November 2016
Current Firmware: C1.02 L2.016 (May 2017)
Sensor Size: 23.5x15.6mm, DX ~1.53x crop 
Sensor Pixels: 24.2mp
Sensor Manufacturer: Sony (Toshiba) IMX193AQK
Sensor Technology: CMOS, Bayer, no AA filter, microlens
Max Image Size: 6000x4000
Other Image Sizes: 4496x3000, 2992x2000 
Video: 1080P 60/50/30/25/24, 720P 60/50/30/25, and VGA 30/25 (stored in .MOV with H.264 compression); stereo sound from built-in mic, or accessory jack
ADC Bit Depth: 14 bit
Raw File Formats: 12 bit and 14 bit Compressed NEF 
Other File Formats: JPEG 
JPEG/TIFF Rendering: 16-bit rendering, 8-bit output 
Auto Rotation: Yes
Color Spaces: sRGB, Adobe RGB
Storage: SD, SDHC, or SDXC, UHS-I and Eye-Fi
Max Write Speed: ?MB/sec
Max Buffer Size: ? JPEG Fine (100 @ any other JPEG setting), ? RAW (? with JPEG)
Connectivity: USB 2.0 HIGH, Optional WiFi 
TV Support: NTSC and PAL, HDMI
Lens Support: AF-S only (other AF don't focus)
Autofocus Module: CAM4800DX (39 sensor, 9 crosshatch)
Shutter Lag: ?ms
Autofocus Modes: Single, Dynamic, Auto Area, 3D Tracking
AF Assist: Yes (white lamp)
Metering: 2016-pixel Color matrix, centerweight, spot
Exposure Modes: PSAM + 8 Scene 
Exposure Compensation: +/- 5 stops, 1/3 stop or 1/2 stop
Exposure Bracketing: Yes, 3 frames (plus ADL, WB bracketing), 2-frame HDR 
ISO: 200-12800, HI1, AUTO
White Balance: Auto, custom, 6 predefined with fine tuning 
Image Settings: Picture Controls including Flat, Sharpening, Contrast, Saturation, Brightness, Hue, Clarity
Color LCD: positionable 3.2" touchscreen, 1.04m dots, 180 degree, 1000:1 contrast
Image Review: Histogram (RGB), Highlights
Continuous Shooting Speed: 5 fps
Shutter Speeds: 30s to 1/4000, bulb. 100k rated
Mirror Lockup: Mirror Delay
Viewfinder: Pentamirror, 95%, 0.82x magnification, 17mm eyepoint, -1.7 to +1 diopters 
Optional Viewfinder Accessories: DR-6 right angle, -5 to +3 diopter corrections, DG-2 magnifier 
Optional Focus Screens: ?
Menus: Playback, Shooting, Custom Settings, Setup, Retouch, MyMenu 
Flash Sync Speed: 1/200 
Flash Type: I-TTL, M
Internal Flash: Yes GN 39 ft 12m (ISO 100) (slightly higher in manual mode)
PC Sync: No (via optional AS-15)
Flash Compensation: -3 to +1EV
Flash Options: Red Eye, Slow Sync, Rear Sync, Flash Lock
DOF Preview: No (alternative: use Live View)
Optional Remotes: ML-L3 IR (back and front), MC-D2 wired remote, WR-R10/WR-T10
Size: 4.9 x 3.8 x 2.8 " (124x97x70mm) 
Weight: 14.9 ounces (420g) without battery and card
Battery: EN-EL14a (820 shots CIPA)
Optional AC Adapter: EP-5a + EH-5a/b 
Other Significant: Self-cleaning sensor, no top LCD (rear color LCD used instead), PictBridge, in camera small picture option, layered images, in-camera editing and trimming, in camera B&W and color filtration, in-camera D-Lighting, in-camera perspective control, color outline, soft filters, FUNC button, can mount non-AI lenses without damage, RAW to JPEG in camera conversion, optional GPS, quiet shooting mode, built-in WiFi
Included Software: ViewNX2
Price at Introduction: US$899 body only
Note: a Peltier-cooled version of the D5500 called the D5500a is available from a third party, Primaluce Lab. This version of the camera is modified for astronomical photography, both with a front sensor modification to allow more H-alpha exposure, an anti-dew system, and an integrated shutter controller for long and sequence exposures.  
Thom does not plan to write a book on the D5500.
Thom's quick takes:
Still relatively low price with high image quality
Solid video capability
Mostly plastic
Must use AF-S lenses! 
Swivel and touchscreen LCD is handy and nice
Built-in WiFi a plus for those that use it, though missing GPS a step backwards
Support this site by purchasing from this advertiser: