Nikon Gives Us More of the Same
The D3300 is an important product in Nikon's lineup because it represents the entry point for the DSLRs, which are Nikon's most successful and profitable cameras.
Since the D50 appeared in 2005 as the entry model, we've gotten almost yearly updates at the low end, and the D3300 is now the fourth in the D3xxx iterations that spawned from that line. So what has changed?
Not a heck of a lot that matters, actually. Indeed, almost no visible changes appear, though the camera has several 1mm differences in size, a few more curves, and has dropped 1.6 ounces (45g) of weight. 
That said, there are more unseen changes than you might first guess, and one of them comes at the sensor, which is now 23.5 x 15.6mm instead of the strangely small-for-DX 23.2 x 15.4mm one used in the predecessor. Working behind the sensor is EXPEED4 instead of EXPEED3. The two together net us a couple of other changes: 1080P now can record at 60 fps instead of 30, we get a top ISO value raised by a stop (12800 instead of 6400, with a one stop HI boost also available), and the camera now shoots at 5 fps instead of 4 fps. 
By using the EN-EL14a we get 700 shots CIPA instead of 540 shots from the battery.
The viewfinder changes its metrics to a slightly better 0.85x magnification instead of 0.8x (with the same 95% coverage and eyepoint).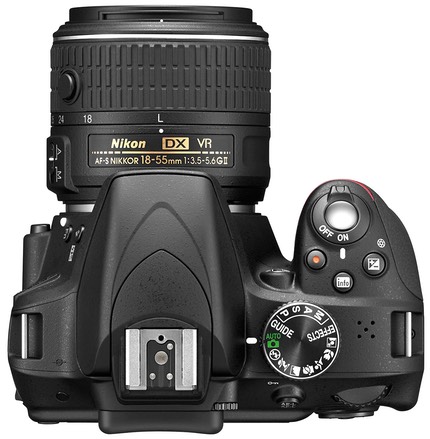 Also new with the D3300 is the kit lens, which has changed to a Nikon-1 style collapsing zoom. It's still 18-55mm 3.5-5.6, it's slightly more compact in terms of how far it sticks out from the camera (half inch). At least until you press the button to un-collapse it for use, at which point it becomes slightly longer! Frankly, I don't get it. This type of collapsing design is slower and clumsier in use, didn't really save us much of anything useful, and seems like a lot of engineering for little tangible gain. It does shave some weight from the already light predecessor, but that wasn't a real problem to start with.
It does seem like Nikon's primary design goals were to move the electronics up to the latest iteration in their DSLRs and shave some weight off the D3300 to make it more competitive with mirrorless cameras. 
What is It?
Like its predecessor, the D3300 is an entry DSLR camera with a 24mp Nikon-made DX sensor. A lot of folk were expecting Nikon to use the Sony 24mp sensor, or maybe the Toshiba one, but it appears that Nikon once again is using its own sensor tech.   
It's quite possible that there is intellectual property licensing going on between Nikon and Sony. There are a few too many commonalities amongst the three 24mp DX sensors Nikon uses for them to be a coincidence, but I don't think that's particularly important. That's because the D3300's sensor is as good as it gets for high megapixel count in the DX/APS size (at least to date as I write this). Indeed, I can't find anything outside of possible sampling error to distinguish between all the current 24mp DX cameras, at least in basic testing. DxOMark even reports remarkably similar numbers for all these cameras, despite each seeming to use a different sensor made in a different plant by a different maker.
Like the previous D3xxx cameras, the D3300 has a 3" LCD and uses the 11-segment CAM1000 autofocus sensor. Still missing, therefore, are a touchscreen and a focus system that covers more of the frame. As I noted, there's a slight change in the viewfinder, but the flash, shutter, and most other critical aspects of the camera are the same. 
Curiously, Nikon did not add WiFi to the D3300. It's still an extra cost option. Not that I've found Nikon's iOS and Android apps that talk to the optional WiFi adapter all that useful, it still would have been nice not to have an extra cost wart to deal with if you want to use WiFi. 
We still have the GUIDE setting on the Mode dial. The Direction pad has moved downward and the two buttons below it are now oriented horizontally instead of vertically, but otherwise the controls are unchanged.
The heads up info display and the position of the quick settings (press the i button) have changed:
This is a bit cleaner design than before, but nothing dramatically different.
The connectors on the left of the camera are now under two better-constructed doors than the previous single door design. Still no headphone monitoring jack, though. 
In the menu system, not a lot has changed, but there are some subtle things that are worth noting: we get a manual movie settings On/Off ability, and there is no CUSTOM SETTINGS menu so many things like Flash Control are living on the SHOOTING menu now, while others like Auto Off timers are on the SETUP menu. For the most part, Nikon made reasonable choices in menu simplification with the D3200 and has continued that forward into the D3300.
The GUIDE mode is actually improved and less likely to confuse or say something incorrect, and as with the D3200 the naive user might actually learn a few things starting with the GUIDE. There's still work to be done, though. Consistency in the GUIDE mode is missing. Someone forgot to template wording. Half the entries being "The camera is now in..." and half just state something like "Aperture-priority auto mode..." There aren't a lot of options in the GUIDE mode, either: nine advanced and nine easy "operations." The easy operations are basically no more than the Scene exposure modes set via a lot of menu diving and button pressing when they could be done more easily by choosing them on the Mode dial. So there's not much there there in the GUIDE. At least it isn't deceptive any more. 
The bottom line is that the basics haven't changed much. To wit:
| | | | | |
| --- | --- | --- | --- | --- |
| | D3000 | D3100 | D3200 | D3300 |
| Sensor | 10mp Sony CCD | 14mp Nikon CMOS | 24mp Nikon CMOS | 24mp Nikon CMOS |
| Shutter | 30 to 1/4000 | 30 to 1/4000 | 30 to 1/4000 | 30 to 1/4000 |
| Flash Sync | 1/200 | 1/200 | 1/200 | 1/200 |
| Matrix Meter | 420 pixel sensor | 420 pixel sensor | 420 pixel sensor | 420 pixel sensor |
| Flash | i-TTL, manual | i-TTL, manual | i-TTL, manual | i-TTL, manual |
| Focus | CAM 1000, only AF-S lenses | CAM 1000, only AF-S lenses | CAM 1000, only AF-S lenses | CAM 1000, only AF-S lenses |
| Storage | SD or SDHC card | SD, SDHC, SDXC card | SD, SDHC, SDXC card, UHS-I support | SD, SHC, SDXC card, UHS-I support |
| ISO | 100-1600 1EV steps + HI1 | 100-3200 +HI, HI2 | 100-6400 +HI | 100-12800 +HI |
| Frame Rate | 3fps | 3fps | 4fps | 5 fps |
| Color LCD | 3", 233,000 dots | 3", 230,000 dots | 3", 921,000 dots | 3", 921,000 dots |
| Viewfinder | Pentamirror, 95%, 0.78x magnification, 17.9mm eyepoint, -1.6 to +1 diopters | Pentamirror, 95%, 0.8x magnification, 18mm eyepoint, -1.7 to +0.5 diopters | Pentamirror, 95%, 0.8x magnification, 18mm eyepoint, -1.7 to +0.5 diopters | Pentamirror, 95%, 0.85x magnification, 18mm eyepoint, -1.7 to 0.5 diopters |
| Other | No DOF Preview, No Top LCD, No Mirror Prerelease, No LCD cover, No Front Command dial, No vertical grip, has FUNC button, no bracketing | No DOF Preview, No Top LCD, No Mirror Prerelease, No LCD cover, No Front Command dial, No vertical grip, has FUNC button, no bracketing, Live View capability added, 1080P and 720P video recording, GPS support | No DOF Preview, No Top LCD, No Mirror Prerelease, No LCD cover, No Front Command dial, No vertical grip, has FUNC button, no bracketing, Live View capability added, 1080P and 720P video recording at 30 fps, GPS support, optional WiFi support | No DOF Preview, No Top LCD, No Mirror Prerelease, No LCD cover, No Front Command dial, No vertical grip, has FUNC button, no bracketing, Live View capability added, 1080P and 720P video recording at 60 fps, GPS support, optional WiFi support |
| Remote | IR wireless only | MC-DC2 cable | MC-DC2 cable | MC-DC2 cable |
| Battery | EN-EL9a | EN-EL14 | EN-EL14 (540 shots) | EN-EL14a (700 shots) |
| Size | 5 x 3.8 x 2.5" | 4.9 x 3.8 x 3" | 5 x 3.8 x 3.1" | 4.9 x 3.9 x 3" |
| Weight | 1.1 lb (485g) | 1 lb (455g) | 1 lb (455g) | 15.2 ounces (430g) |
Not a lot of changes there, right?
As befitting a low-end camera, the controls on the D3300 are relatively simple. Only 10 buttons on the back (some Nikons have as many as 16).
How's it Handle?
Yes, the lack of body-based screw-drive means that you can't use older autofocus lenses. Only AF-S lenses will autofocus on this camera (also Sigma HSM and Tamron or Tokina with built-in motors). But Nikon now has enough AF-S lenses that this isn't really a terrible problem, and the third parties are adding similar lenses every day. Plus the D3300 has the same "rangefinder" option that the D60 thru D3200 did, which can be very useful in manually focusing older lenses. I've written at length about the compromises that result from the requirement that a lens be AF-S to autofocus on these cameras before (e.g. see my D40, D40x, and D60 reviews). I won't belabor that here. Either the lack of the screw drive is a deal breaker for you or it isn't. I'm on the "isn't" side of the fence, but I understand those on the other side of the question. 
Unfortunately, the collapsing lens change makes for the awkward "Before taking photos rotate the zoom ring to extend the lens" message if you didn't remember to extend the lens. This is a mechanical process, not an automatic one as it is on some cameras (including now the Nikon 1 models with their new kit lens). Why anyone at Nikon thinks this is the right approach, I have no idea. Pretty much every camera company tries it and then abandons it when customers start complaining that they lose pictures because they forget to extend the lens on powering on the camera. Anything camera companies do to make going from "not shooting" to "shooting" take more steps and a longer amount of time is basic totally counterproductive. With DSLRs, which are typically bought for their responsiveness, this is just silly design thinking. 
Of course, you could just buy a different lens for your D3300 ;~). Unfortunately, because the D3300 is only sold as a kit, you're going to get this new poorly thought out option whether you want it or not.
The control changes that came on the D3200 and now carry over to the D3300 are easy enough to get a handle on if you use any other recent Nikon DSLR, and even if you're moving up from a D60, D3000, or D3100. D3200 owners moving up are only going to notice that the controls on the lower right back moved a bit.
The really big issue in handling is still in access to a number of functions that some people like to change a lot: ISO, WB, metering, and focus modes. These are all probably quickest accessed via the INFO button and Shooting Information Display. Press the I button on the back. This highlights one of 10 settings and allows you to use the Direction pad to navigate to the one you want and then press the OK button to access those settings. Not exactly quick, but faster than menu diving, especially if you're setting the same item over and over (e.g. white balance). One nice touch is that Nikon got rid of the "shooting display must be on to use the i button" problem I noted in my D3200 review. The D3300 really needs a touchscreen to make it a more responsive camera.
There are no real functional differences in this handling from previous low-end Nikon DSLRs, and the low-end design has become a bit second nature to me over time. Personally, I think it's time that Nikon offer at least a couple of user settings on the Mode dial, so that users of these cameras can set the camera a couple of ways and switch between them very quickly. 
The Fn button can be programmed as a QUAL, ISO, WB, or Active D-Lighting button. The AE-L/AF-L button can be programmed to the usual suspects plus AF-On. For serious users, those are decent choices, though a bit limiting.
One good news bit about handling is that the PASM exposure mode user who wants to control basic camera settings still can do their thing. And for the most part the camera won't get in the way. The things that user sees in the menus and controls is improved for the most part.
Like the D3200, the D3300 uses the optional WU-1a WiFi adapter. This is a really small device, as in "so small you'll probably lose it some day." The WU-1a plugs into a slot on the side of the camera, which then of course leaves the rubber flap up and in an annoying position that can get in the way of the left hand. At least there are no extra cables to get caught, and the small profile of the device also doesn't really add bulk to the camera.
If you want to know how the app on your smartphone/tablet will work, see the handling section on my D3200 review. Nothing's really changed.
How's it Perform?
Battery Life — Battery performance is now very good, more than the typical purchaser of this camera really needs. I was able to get over 1000 images to a charge. Nikon suggests that the camera gets 700 image for the CIPA standard test. But it should be noted that I do a lot of things to try to minimize battery drain, including turning the Shooting Information Display off. I suspect that truly novice users will get close to Nikon's 700 images per shot, while more serious users can manage higher by promoting better camera settings. Note that flash use will drain the battery faster, too.
The WU-1a is another battery drain, though somewhat minor. I was expecting it to suck down the battery faster than it did (ala previous Nikon WT's), but it seems a bit better behaved and lower in power draw than I thought. Still, if the camera is on and the WU-1a is connected, it's drawing power. Something to remember when you leave the camera in the bag for awhile without turning the camera off; the battery is going to be drawn down when you pick the camera up again.
Writing to Card — One of the weaker spots of the camera. The buffer isn't very big, and even with fast cards (45Mbs+) you'll drop to just over 1 fps after from five to ten frames while shooting JPEG. And then you'll have occasional stutters if you continue to hold down the shutter release. It's actually odd performance for a Nikon; I've not seen so much stuttering once the buffer is filled as I see with the D3300. On the other hand, the camera is active and returns to active fast even when trying to complete a buffer write to the card. 
Note that 24mp images do chew up more space than you may be used to. If you've been shooting with a 12mp (or lower) camera, you're going to want to move up a card size when moving to the D3300 (e.g. a 16GB card instead of an 8GB one).
Autofocus System — Autofocus performance is excellent within its 11-position constraints, same as the D3000 thru D3200. I can't find any real differences in focus performance from the previous three generations of camera, though there may be some very minor ones I can't measure.
Note that you don't get as much control from an 11-position autofocus sensor as you do with the D7000, for example, but you get close to the same focus performance at the same settings from the central sensor, slightly less in the outer sensors. The 11-sensor arrangement is highly optimized to the central sensor and the triangular distribution of the other sensors doesn't help for far off-center subjects much, so to some degree the D3300 tends to be best for Single Servo, focus-and-reframe shooting. 
Which brings me to this: 24mp reveals a lot. It reveals focus misses very well, for example, at least if we're looking at pixel-level views. My D3200 had a slight tendency to back focus with the various DX lenses I used on it, which was frustrating because there were no AF Fine Tune to fix that. My D3300 seemed better tuned to the lenses, but this is an area where sample variation does occur. 
Continuous autofocus using the contrast method is available, but it doesn't work particularly well. Getting an initial focus for Live View or video via contrast AF actually works halfway decently and quickly in good contrast or light, but continuous performance? No, Subject-tracking AF rarely does what its name implies. 
Image Quality — There's not much point in my posting my usual basketball images, or any image from the D3300 versus that of the other 24mp Nikon DX DSLRs, for that matter. Even pixel peeping I'm having a tough time seeing anything different in a D3300 image versus a D7100 image, for example. If anything, boosting shadows by large amounts doesn't tend to reveal banding nearly as fast as my D5300, and then only faintly.
Back in 2003 I wrote both on this site and others that I believed, after doing a fair amount of math, that DX would max out at about 24mp. We're there, so I need to again update people on what I was writing about. First, let me make something clear: more pixels are always good. More sampling always gives you more data from which to work, and more data is good. The question I was trying to answer in 2003 was "at what point would it become extremely difficult to distinguish better results?" The key term I wrote then was when do we "max out" the easily seen improvements? 
There are a number of factors that all need to be considered. One is diffraction. At 24mp DX and f/4, a 10" print viewed normally probably isn't diffraction limited, a 20" print almost certainly is. Essentially small detail is starting to be masked. Of course, one reason people think they're buying 24mp cameras is to resolve fine detail.
Another factor was the resolving power of existing DX lenses. More megapixels is more sampling, and more sampling means that you better see just what you lens does and doesn't do well. A number of DX lenses seemed weak already at 16mp (the 18-200mm being one of them); the visual impact of those weaknesses increases with more resolution at the sensor (at least at pixel viewing levels).
There were a number of other factors that I wrote about back in 2003 but one I didn't mention (though it was considered in my math): the focus system. Here's a simple example: if you focus on an eye but the focus actually locks ever so slightly behind or in front of the eye, will you notice that? Back with the old 6mp DX cameras, not really. But with each bump of resolution we get closer to the built-in tolerances of the underlying focus system. The phase detect focus system used in DSLRs isn't infinitely precise. It's finitely precise. If you saw how small a movement was being made by the focusing elements in some of your lenses, you'd understand what I mean: we're operating at micron-level tolerances and at some point if the camera resolves really, really well, a small misplacement of focus is going to show up when you stare at the pixels. 
So what did I mean when I wrote that 24mp would max out DX? I meant that as we increased megapixels in sensors up to 24mp it would be relatively easy to see differences between sensors: most people would be able to tell that their 24mp results were better than their 16mp results, all else equal. Same was true of 16mp versus 10/12mp, 10/12mp versus 6mp. But if I were able to stick a 36mp sensor into the D3300, I suspect we'd lose a fair number of you: you wouldn't see any significant differences between your 24mp and 36mp shots, all else equal. That does not mean that there isn't more information or resolution in the 36mp shot, it just means some of you are going to have a hard time seeing it or putting it into any useful practice (other than perhaps printing larger).
There's one exception to that, and it's worth talking about. Let's say I had a 36mp sensor and a 12mp one (hey, we do, in FX bodies!). If I downsized the 36mp image to 12mp, I'd see more edge acuity overall: that extra resolution would start to show up a bit. Noise would also get masked by the downsizing. That's one of the things that makes the 36mp D800 a better camera than the 12mp D700, all else equal. 
So the question here is: is the 24mp D3300 better than, say, a 12mp D90? Simple answer: yes, and for the same reasons the D800 is better than the D700. The sensor size is the same, thus the sampling rate per area is higher. If you use that for reasonably sized output (say 8x10, or 11x14 prints), you should indeed see better results from a D3300 than a D90. How much better? A lot better, actually. Not only is the D3300's sensor a generation or more newer than the D90 (and thus has a higher dynamic range), after downsizing those extra pixels are enough to make a visible difference in higher acuity and lower noise, too. 
Of course, you might want to use extra pixels to go larger with your output. A 12mp image prints to about 13" wide at 300 dpi, a 24mp image prints to about 20" wide. This is exactly where we have to start watching very carefully. First, the newer sensor generation does better with noise and has more dynamic range, so that's good and helpful. Indeed, the quantum efficiency (how many of the photons get converted to electrons) increases to 44% on the D3300 versus 29% on the D90. That's good, because the individual sites where we're capturing photons have gotten smaller. The read noise on the D3300 is just above 2 electrons, while it's more than double that on the D90. Still good. Good enough that I'd probably take the 20" D3300 print over the 13" D90 print, even not considering the size difference. The difference is not completely dramatic, but the difference is clearly visible to me.
You may notice I'm going about this section a little different than usual in my reviews. For the serious user, it's important to understand the big picture, pardon the pun. There's good news and bad news in that, and that dictates what you actually get out of the camera.
For example, dynamic range. I'd peg this camera as being right up with the D7100. You'll note I haven't stated a number of stops. There's a reason for that. While at base ISO I think you'll easily get more than 10 stops of very usable dynamic range, trying to narrow down exactly how much you truly have is complicated a bit by the compressed NEF dropping data at the high end. I do see some minor differences at the top end between a D7100 and the D3300 when I do extreme post processing, which makes a single-number value not very useful. Suffice it to say that I doubt you'll be disappointed. The only way you're going to get truly better dynamic range than the D3300 offers is to go to FX, and even that might not be quite the boost you think it should be (basically a stop). 
Against the "equivalent" current Canon Rebel, the D3300 has better dynamic range and deep shadow performance, despite having more pixels (24mp versus 18mp). So the short answer is always the same: Nikon is using great 24mp DX sensors these days, essentially state of the art for the sensor size.
Along with all that goodness is Nikon's usual brew: the EXPEED Picture Controls are still producing pretty much the same color and options that the other Nikon DSLRs do. It's actually kind of impressive that I can fairly closely match color/saturation/contrast results in JPEGs between a high end Coolpix, the Nikon V3, the D3300, and my D800. 
Video — 1080P/60 isn't a high bar. The D3300 does HD video reasonably, but you can see some corners cut. Rolling shutter is clearly visible, though not as bad as the D3100 was. It might even be acceptable for most uses in this iteration. The compression ends up a bit much on the sub-sampled data stream, even at 24Mbps (high quality). Certainly usable, but not the level of quality that you'd want for serious videography, let alone broadcast use. The sub-sampling into compression artifacts really shows up in low light (high ISO values). In reasonable light at lower ISO values, the video's fine for more casual work, and maybe even might be able to be snuck into more serious work without anyone noticing. 
As usual, the audio is a weak point. I'm getting old but my ears can still hear the noise in the mic amplification. But that's pretty much true of all DSLR audio: the camera makers just aren't using high end parts in the audio stream, and the lack of balanced inputs doesn't help, either. 
We have full time AF while recording video, and like the other Nikon's, it's improved from previous generations, but still has a tendency to hunt and is a bit slow to lock into a new subject. 
Should You Get a D3300?
The D3300 is a feature-limited camera with a DX image sensor that's at the top of the heap for its size. This is a little bit of a conundrum for many, as the build quality and feature set is decidedly consumer but the image quality decidedly prosumer or better. I can see some more sophisticated users putting lenses like the Voigtlander 20mm f/3.5 on this camera, shooting in manual mode, and being in heaven. 
Indeed, those that read my DX Month comments a couple of years ago about the incomplete DX lens set probably know where I'm going: it's really a shame that the only small, really competent lens Nikon makes for this camera is the 35mm f/1.8G DX. My 18-200mm just doesn't deliver on this camera (it was struggling at 16mp). The kit lenses show their "kit-ness" on this camera (they didn't back in the 6-12mp days). In short, you very quickly run out of DX lenses you might want to use on this camera to match the high performance of the sensor: 12-24mm, 16-85mm, 17-55mm, 35mm, basically. Everything else will start to show you that maybe you should spring for a better lens ;~). That's not to say that you won't find the results with some of the other DX lenses acceptable. It's just that when you start pixel peeping, you'll definitely see how your lens performs, and you might find it wanting. Of course, if you're printing 8x10's from the D3300, size solves all problems. Just be careful of the "I'll just slap an 18-300mm on there and print 36" prints" thought. That's a size too far. 
If you're coming from one of the 6mp, 10mp, or 12mp Nikon DSLRs, there's no doubt on the image quality side: the D3300 is a big step up. More pixels, more dynamic range, less noise, a fairly tight AA, same old EXPEED color. The question is whether or not you can live with the limited feature set if you're coming from any mid-range or higher body. 
A question I've gotten asked is whether a DX user should pick up a D3300 just to get the 24mp. Well, if you've got the lenses for it, sure. 
Drawbacks
Needs Better Lenses. This a V8 engine in a small car designed for a flat four. 
Video is wobbly. Rolling shutter problems are visible, though not as bad as the D3100 was. Talking head videos are okay; roller blade action, not so much. 
Missing Features. Bracketing and true HDR seem to be obviously missing. Why WiFi is still optional is questionable.
Positives
Good AF. Like the D3000 thru D3200, the AF system is good, even with Live View for stationary subjects, but especially with the central sensor with moving subjects. 
Best Sensor yet. 24mp of goodness. Solid dynamic range, reasonable noise handling. 
Small and light. It's about the right size and weight for a "daily driver" camera you carry everywhere with you, at least if you couple it with some small primes. It holds up better than you'd think, too.
Support this site by purchasing from this advertiser: