(commentary)
Amongst other things in my month off, I spent a bit over two weeks in Africa. Most of that time was dedicated to shooting 4K video for a client, but since we were traveling through the Okavango Delta, the wildlife possibilities were attractive enough that I wanted to bring a still camera with me, too. 
Due to weight restrictions and the sheer amount of gear that shooting video entails, I ended up not having a lot of space in my backpack for a DSLR and lenses. In the end, I opted to carry a D7200 and an 80-400mm lens. That's pretty much it. I had a Sony RX100IV and Panasonic LX100—note that both shoot 4K video, so they were partly backup for that—but nothing else. 
During the trip I managed to fill three 32GB cards with wildlife stills between shooting video. When the leopard started catching catfish at the mud-hole that was left of the dried up Savute Channel, I had the video camera locked down on the action on my window mount and picked up the D7200 to snap a few shots (see below). It's not every day you see a big cat fishing, after all. 
The question, of course, is was I satisfied with this compromise still situation, did I take any good photos, and was there anything I missed by not bringing my higher end gear?
Let's start with some photos.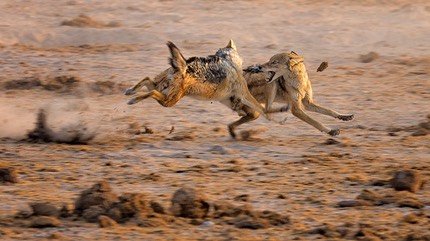 Did the D7200 do okay? Uh, duh, yeah. 
And I pretty much knew it would, otherwise it wouldn't have been my choice. Frankly, if you can't take good images with a D7200 even in difficult conditions such as those I was in, then I'm not sure you can take good images. 24mp DX is a lot of pixel density, and the D7200's sensor is state-of-the-art. The focus system is also pretty much state-of-the-art, and now we have a buffer that can handle bursts of raw shots (though I generally don't do a lot of this). 
So let me answer the "good photos" question this way: yep, f/5.6 and be there. While I couldn't have captured these images with my smartphone, you don't need a D810 and a 600mm f/4, either. What you need is a competent camera and lens plus the knowledge of how to use it. The D7200 did just fine there. 
How about the 80-400mm? After the sand abuse I've thrown at it on the last two trips, it's going to need a bit of a cleaning, but that's about all. Because I was shooting video most of the time on this trip, the D7200 and lens were either bouncing around on my lap or on a towel between the front seats while my 4K video camera lived on the door mount. If you know anything about the state of the roads in Moremi, Kwai, Savute, and Chobe, you know that I gave the gear quite a bounce and vibration test. 
Optically, I really don't have any complaints about the 80-400mm. Yes, my 400mm f/2.8 is better at 400mm. But no, the 80-400mm is not a slouch, either. I can live with its optical characteristics. Actually, the thing you want to look at in lenses for wildlife is focus performance as much as optical performance. There, the 80-400mm is darned good and fast enough. I never felt like I was waiting for the lens to obtain focus. Ever. 
If I have a complaint about the 80-400mm it has to do with manually overriding the focus. First, my lens is getting a little rough in the focus ring due to all the abuse I've thrown at it. But beyond that, dialing in a tiny amount of focus adjustment manually is tougher on the 80-400mm than on my bigger lenses because small movements of the focus ring make bigger leaps in focus. And I manual override focus a lot. Coupled with the smaller DX viewfinder view, I was guessing as much as actually seeing the change. (Slight teaching tip: do you know which way to turn the focus ring to pull focus towards you or shift it away from you? If you don't, then you're a long way from mastering manual focus override.)
Was there anything I was missing in my one camera, one lens kit? Yes, primarily this: the ability to make depth of field more shallow to isolate subjects against backgrounds. Of course, being in control of the vehicle, I could and did control my position quite a bit, which helps, as you can see by the images I've presented. Still, the thing I most miss with not using the 400mm f/2.8 is the ability to manipulate the depth of field more when distracting backgrounds show up.
If I were just shooting stills on this trip, I would have been using my D810 and the 400mm f/2.8, with backups of another D810 and the 70-200mm f/2.8 and 300mm f/4E lenses. Probably a TC-14E, though I don't use TCs much any more. But the D7200 and 80-400mm weren't nearly as much of a compromise as you might think. I'm happy with the few shots I took. And I have to think back to less than a decade ago when I was using a D200 and various fast lenses and still struggling in low light. We've come a long way in a short time, and you don't need the very best gear to experience that.
I'm tired now, so let me wrap this article up before the sun sets...