BlackMagic Design kicked off the morning press conferences with a sneak-around-the-back-of-the-convention-center and come in the back door event (show floor access even to press doesn't start until 10am). 
Unlike previous NABs, there's no new camera from the company, but BlackMagic Design (BMD) continues to add to their offerings from bottom to top. I'll get to what might be of interest in terms of new gizmos in a minute, but first I want to make sure that you understand BMD.
What started as bits and pieces to help videographers and broadcasters has turned into a pretty full end-to-end suite of products. They make cameras (from the low end and low cost m4/3-mount Pocket Cinema Camera up through full 4K studio cameras now). They make switchers, routers, and a variety of the distribution tools in the middle (I use a BMD product to grab HDMI screen shots off cameras). They make recording and distribution products. They make one of the best editor/grading packages in Resolve (free for the Lite version).  Heck, they even make film scanners to take a 35mm feature to digital. 
The new products today were mostly about filling in gaps and fixing things. More than anything else about BMD I like the way they work and think. They listen to users, they respond to users. How refreshing.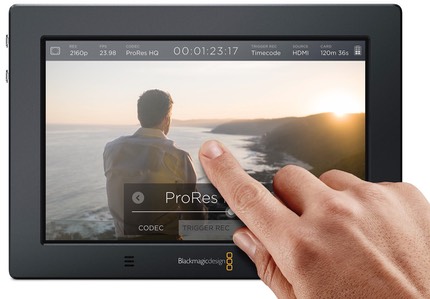 The new product they introduced that most clearly fits into the realm for this site's readers is the BlackMagic Design Video Assist 4K, the second in their off-camera video display recorders. The original Video Assist was HD with a 5" screen, the new one is 7" and records UHD (2160P/P30), as well as supporting mini XLR mic inputs. The 7" touchscreen display is also 1920 x 1200, so the status bar at the bottom doesn't cover the 16:9 display feed. As with the original, the Video Assist 4K records 10-bit 4:2:2 ProRes and DNxHD files to SD cards. The original HD Video Assist is U$495, the new 4K model is US$895. You wondered why Atomos has been dropping prices? Competition. And now BMD has a Shogun competitor, too.
BMD also announced a lot of firmware upgrades, and unlike what we're used to from Nikon, et.al., these are actually upgrades with new features and capabilities. A few of those updates are available immediately (Resolve 12.5), others will be coming in a couple of months (the Ursa Mini). 

One of the more interesting products they announced was something that is very interesting: a 25-bay SD card recorder called the Blackmagic Duplicator 4K (US$1995). Say what? It's an interesting premise. 
You're doing event video (wedding, sports, conference, etc.). Your switched feed is going to a recorder. But what if you plugged the Duplicator 4K into that stream? You could sell SD cards to the audience as they leave the event. And these things can be stacked. So you can record 25, 50, 75…1000 cards simultaneously. 
People ask how pros can make money. Well, Blackmagic Design definitely is thinking about that problem. At least for video event recording. I like the idea. I work with a theatrical group, for instance, and we've been discussing how to better monetize their plays, especially since they do original work that doesn't repeat. I think the Duplicator 4K might be part of the answer. As the name implies, it records 4K ;~). 
Panasonic didn't really announce anything of interest to this site's readers, but I did witness something you don't see very often: a Canon executive at a Panasonic press conference. Say what?
Deja vu is happening all over again, it seems: format wars. 
Here's the story: everyone needs to move video faster. Way faster. They need to do it over long and short distances and to a range of equipment. The solution that's emerging as the go-to for everyone is called VoIP (video over IP). The question is what format that data is, and how does it interchange with the rest of the world. 
Well, I had just come from the BMD press conference, where they announced they had selected AIMS (Alliance for IP Video Services; everything is an acronym at NAB) with Tico codecs. Guess what Panasonic and Canon were announcing together? That they'll support AIMS with Tico codecs. Indeed, the Canon and Panasonic booths at the show are connected with IP and are moving video back and forth showing their interoperability. 
Yep, Sony seems to be the only one of the majors that's focused on the alternative NMI approach. There are others, including NDI. Update: a reader helped me out with this one: "Sony also offers significant support for ASPEN, another (mostly) proprietary and somewhat legacy-encumbered but more widely supported standard (the #2 behind the more open and somewhat more flexible AIMS). The bigger deal is that unlike in the Betamax days, Sony specifically stated that they were embedding their VoIP logic in FPGAs, which will allow them to update their existing and future products with a simple firmware patch to work with whatever emerges as the dominant standard (which I'm hoping will be NDI, but realistically looks like AIMS at this point, which isn't the end of the world)."
And even more: Sony announced support for AIMS at the show. Moreover, the more I learn about VoIP the more interesting and tangled it seems. Sony's preferred NMI and the more general AIMS seem to differ mostly at the codec level, and both are based on a standard that defines how to use an SDI signal over an IP line. 
In terms of other product announcements from Panasonic, it was mostly high end broadcast and feature cameras (the Varicam LT was the smallest and least expensive of the products they talked about, and it's out of the league of what I'd write about.
Zeiss did something unexpected this morning: they announced Lens Gear Rings, which will take any Otus, Milvus, or Loxia lens and add a geared focus ring to it. The rings are made of premium aluminum coated with GumGum, a rubbery adhesive surface. No tools are needed to mount the rings, and they all feature a standard 0.8 pitch gear. To accommodate all the different-sized lenses involved, there are four ring sizes (Mini, Small, Medium, and Large).
I actually hit some other things this morning, but I'm pressed for time before the next round of appointments starts, so I'll leave things here for now. Check back this evening for the next installment. 
Update: a previous version of this post incorrectly indicated that Sony was using NDI. This has been fixed and a reader comment added. In addition, I've added information about Sony announcing they'd support AIMS.