Nikon today introduced the long-expected 19mm f/4E ED PC and 70-200mm f/2.8E FL ED VR lenses. Both have been eagerly anticipated by FX shooters, a bit less so by DX owners.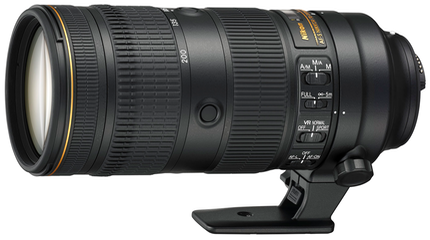 The 70-200mm f/2.8E is the replacement for the well-regarded 70-200mm f/2.8G VR II lens. Besides the E treatment—electronically controlled apertures as opposed to mechanically controlled—the FL in the new lens' designation indicates that Nikon was looking to trim down an element or two in weight. The new lens is 50.5 ounces as opposed to the old 54.3 ounces. It's also lost a fraction of an inch in overall length (3mm). 
As most of us shooting with the current 70-200mm f/2.8G know, it's only real drawback has been that at close focus distances you lose a lot of focal length, a trait called focal length breathing. Many still camera lenses do this to some degree, but not as much so as the 70-200mm f/2.8G did versus the older D version it replaced. The issue is that, at close distances, you had to change perspective (move closer) or crop with the G version. Not a terrible thing, and a lot of people didn't notice it. But the very first thing a lot of prospective buyers of the new lens are going to look at is the focal breathing behavior. Based upon the specs, it seems like focal length breathing should be much more minimal and more like the older D version. This new E version also focuses closer than the previous one, though the maximum magnification doesn't really change much.
Other things that you should know is that the lens is extensively weather sealed, features both fluorine and Nano coating, and has a new VR system that starts up quicker when the camera is powered on (and is measured at 4 stops CIPA). One change that will cause some grief: the zoom and focus rings have reversed. The zoom ring is now at the front of the lens, apparently because Nikon believes that pro shooters zoom more than they correct focus. This will take some getting used to. 
Meanwhile, the 19mm f/4E PC finally gives Nikon something closer to match the Canon 17mm tilt-shift lens. I'm sure there will be complaints that Nikon should have gone wider, but for FX users, 19mm with a tilt-shift is plenty different than the current 24mm PC-E. We're talking something like 82° horizontal versus 74° (true, the Canon hits 93°).
The real thing everyone is looking at on the 19mm f/4E PC is the tilt-shift mechanism: is it independent, or are we still tied to a single axis as with previous PC-E lenses? The answer is: yes, you can set tilt and shift independently. Great, now can we get re-makes of the 24mm, 45mm, and 85mm with that feature?
Note that the lens does not have filter rings, nor does it appear to come with a lens hood (though the bayonet for one is clearly there, NikonUSA does not list one nor is one shown in any image).
The 70-200mm f/2.8E is US$2799, and will ship in mid-November. The 19mm f/4E PC is US$3400, and will also ship by mid-November. Both will be shown later this week at PC PhotoExpo in New York City.
As with the recent 105mm f/1.4E and the 16-80mm f/2.8-4E DX, we already have people complaining about Nikon's new lens pricing. These are not consumer lenses. They're pro workhorse lenses and are expected to deliver highest possible image quality. I personally don't have any issue with Nikon's pricing as long as the lenses deliver on image quality, but it's also very true that these are not going to be high volume, consumer-bought lenses. 
Still, Nikon is clearly still pushing the upscale side of things (D810, D5, D500, high-end lenses, FX in general) much more than they're doing things down in the more mass consumer level.  If that continues without things that appeal more to the Nikon 1 to D7200 type of owners, Nikon's going to get remarkably lower on volume, I think. The thing we're all waiting for is to see Nikon's plan for the US$500-1500 type of camera, and the full lens sets (buzz, buzz) that are needed there to remain competitive.
Oh, and by the way, Nikon is back on the "announce something every month club" again (and has been since July). They're spreading announcements out rather than trying to make one big splash. 
Note: since B&H is closed for the Sukkos holiday, the lenses are not yet listed on their site. If you'd like to support this site by ordering one of these lenses, check back later or just use any of the B&H links on this site to start an order for it when it does appear. I'm on assignment this week, so I might not be quick to post a link when B&H re-opens ordering.