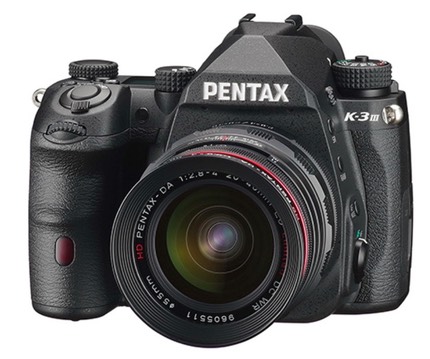 With what is shaping up to be the world's slowest product announcement, Pentax today officially named and provided specifications for their latest APS-C DSLR. 
Congratulations, it's a Mark III (K-3).
Oh, wait, it hasn't been birthed (or priced) yet. This apparently was just a gender reveal, coming after over a year of earlier teases and pregnancy announcements. According to Pentax, the projected birth date, uh, "launch target" is in late February 2021 at CP+. 
The K-3 Mark III will be a 26mp APS-C camera with sensor IS, an AA filter simulator, 14-bit DNG capability, and two SD slots, only one of which is UHS-II. Focus is via 101 points (25 cross type), and max frame rate is 12 fps with a max 37 frame buffer (in raw). 4K 30/24P video is available, as is 1080P/60. 
So, a bit like the four-year old D500, but with more pixels and a smaller buffer and a K mount. Right. 
I'm glad the Pentax engineers are still working, and I'm sure Pentax owners who've decided to stick things out will be happy with this new camera, but I can't help the feeling that this is my father's Oldsmobile.